Le parole dell'innovazione (The words of innovation)
Abstract
Editorial: the words of innovations.
References
BACCARANI C., BRUNETTI F., GIARETTA E. (2014), Making Sense of Innovation, paper submitted to 7th Annual Conference of the Euromed Academy of business "The Future of Entrepreneurship" 18-19 September, Kristiansand, Norway.

CECCANTI G., Pensiero e azione imprenditoriale nella morfogenesi delle strutture, documento interno, senza data

EINSTEIN A. (2012), Il mondo come lo vedo io, Newton Compton, Roma, (prima edizione 1934).

ECO U. (2009), Vertigine della lista, Bompiani Editore, Milano.

KEELEY L. (2014), I dieci tipi di innovazione, LSWR, Milano

MCCULLOGH D. JR. (2014), "Cari ragazzi ecco il bello di avere torto", La Repubblica, 22 agosto.

MILLS-SCOFIELD D. (2013), "Can You Invent Something New If Your Words Are Old?" HBR Blog Network, 15 ottobre.

SENECA L.A. (2006), Lettere a Lucilio, Garzanti, Milano.

VARANINI F. (2006), Le parole del manager, Guerini e Associati, Milano.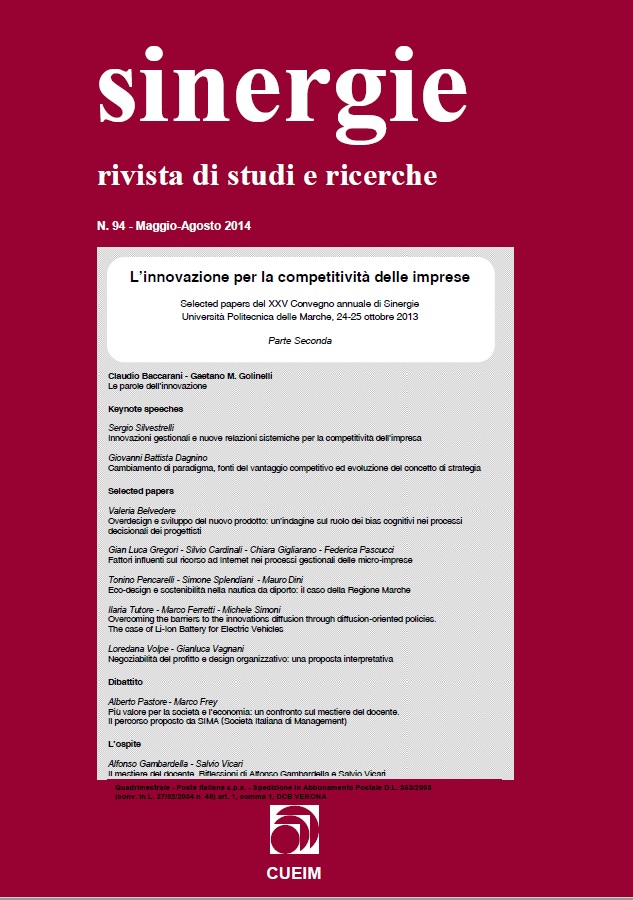 Downloads